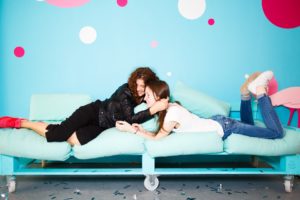 What's the catch right? That heading sounds like a scam for sure. Don't worry, it's not a scam. It's a party hosted by you!
Host an Eco-Friendly Clothing Swap
This is seriously the BEST girl's night. It's eco-friendly, fun, free, and will de-clutter your life. It's also a party with a purpose so it's perfect for getting new friends from different walks of life together. So raid each other's closets, treat yourselves to some new style, and have a blast.
Here's how it works:
It's simple. Everyone brings items they want to swap. We all have dresses that fit us just a little awkwardly, or shoes and jewelry that we're never going to wear, or makeup colors we decided weren't for us. Everyone brings (reusable ;)) bags filled with their unwanted items and you swap! Something you're not crazy about may be exactly what your friend is looking for. As they say: one person's trash is another person's treasure.
A few tips for your eco-friendly swap party:
Plan this party several weeks out so people have time to clean out their closets and set aside their goods.
When guests arrive, have them lay out their items to display. Setting them up by size and/or style usually works well
You can be organized about it if you want… for each item you bring you get a ticket with your name that goes in a jar, then names are drawn one by one. As guest's names are called they get to pick an item, and it rotates. Or just do a free for all! Whatever you're into.
Have a bedroom or bathroom set up for trying things on and have a full length mirror available.
Have it pot-luck style in the spirit of sharing!
At the end of the party, give guests the option of taking their unwanted clothing home with them or leaving it to be donated.
Donate the leftovers to The Salvation Army, Goodwill, Big Brother Big Sister, or search the web for local donation centers in your area.
Remember to be green! Avoid unnecessary decorations like streamers and balloons. Opt for real glasses and plates if possible. If choosing disposables choose recycled options.
Green the theme – create a poster to highlight some of the companies that are doing their part to offer sustainable fashion choices
Did you host a swap party? How did you make it a success? We would love to see your pictures! Shoot us an e-mail on our Contact page or share your party pics on Facebook!
Save
Save
Save
Save
Save
Save
Save
Save